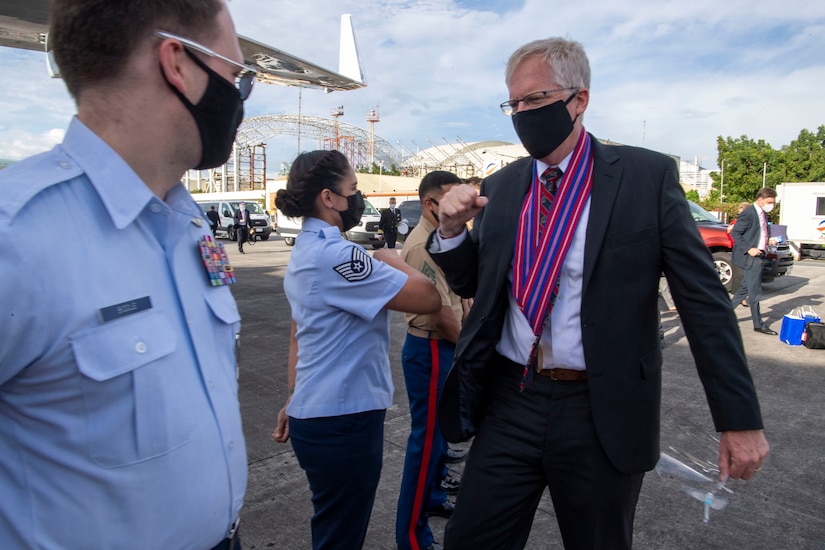 86 New Companies That Hire Military Spouses Inducted Into DOD Hiring Program
---
07.01.2021 Filed in: DOD written by: Terri Moon Cronk
Acting Defense Secretary Chris Miller and his wife, Kate, along with Second Lady Karen Pence addressed the importance of MSEP in pre-recorded remarks.
"As a former active duty soldier and military spouse, Kate and I recognize the cost of the sacrifices made by those in uniform and their loved ones," the acting secretary said. "They bear the burden of grueling deployments, they uproot their lives every few years for permanent change-of-station moves, and … to honor them, the Department of Defense and a grateful nation are committed to improving their quality of life and providing our families the support they rightly deserve, every step of the way."
MSEP is a one-of-a-kind partnership that plays an important role in recruiting and retaining military spouses. Since 2011, MSEP has hired more than 175,000 military spouses for jobs across the country. Military spouses bring many talents and experiences to the private sector, Miller noted.
"This partnership comes with great responsibility," the second lady said. "I've heard that the vetting process is serious business, and that partners are required to sign a statement of support with the DOD to commit to recruit, hire, promote and retain military spouses to all of the new partners."
Pence thanked the company partners for taking an important step to support the nation's military spouses.
"Your new partnership will make a difference and help our nation's military readiness," she said, addressing the 86 new partners. "It's important to take care of our military spouses and their children so that service members can stay focused on their missions and remain ready to fight and protect our freedoms."
Pence said when she unveiled the Military Spouse Awareness Campaign in 2018, she wanted to elevate and encourage the nation's military spouses. And in her travels throughout the country and the world, she's educated military spouses on employment solutions, she added.
"For example, we improved the policy for spouses pursuing a degree or certification," Pence said, adding, "You cannot be made ineligible solely because your service member has been promoted to a higher grade. Military spouses can now retain their state of residency for business purposes if they move out of state as a result of a change of station."
The secretary of defense is now authorized to fund the creation of interstate compacts to improve license portability, the second lady added.
MSEP is especially important this year as people navigate the most challenging public health crisis in more than a century, Miller said. "Yet, if there's one thing we all know is that military families are well-equipped in overcoming the challenges. And over the past year, our nation's employers witnessed their skill resilience firsthand."
MSEP is part of a broader effort to help military spouses in the DOD's global community. It also helps spouses hit the ground running after moving to a new state. The partnership has improved license reciprocity among states, too, and 43 states have enacted legislation on reciprocity in the past three years, Miller noted.
Through MSEP, DOD is also engaged with the State Department to improve on- and off-base hiring opportunities for overseas spouses and dependents, the acting secretary said.
"Thanks to [several] efforts, we've seen a 20% increase in military spouse hiring just this year. That's an achievement we should all be proud of," Miller added.
The acting secretary commended the newest members of MSEP for their commitment to U.S. troops and their loved ones, especially during such a challenging time, he said, adding that he hopes more businesses and organizations follow that devotion to military family members and their service members across the force who endure the hardships of military life while navigating the complexities of employment and other challenges.
"For this, you have our admiration, gratitude and commitment to support you every step of the way," Miller said to MSEP partners.
The second lady challenged MSEP business leaders to spread the word about the significant role that military spouses — the home-front heroes — play in the defense of the country. "Join us as we encourage other business leaders to join this vital movement to hire and retain military spouses," she encouraged.
Announcement from Integrity Engineering & Design Solutions
As businesses are scaling, finding the right talent to meet your needs requires frustrating onboarding logistics, countless hours of training, and increased overhead through employee compensation. Integrity-EDS, will soon be announcing the launch of our next-generation mobile and desktop platform, enabling leaders to hire on-demand talent for as long or as short as necessary. In turn, teams can achieve maximum efficiency without unnecessary downtime, skill development, or overhead.
Interested in learning more?
Click on "Find Out More" below for access to exclusive launch & platform information, feature updates, and beta testing opportunities,