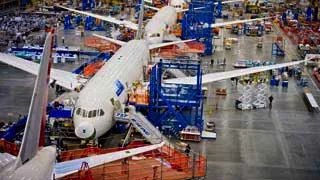 It is time for Congress to act: Save jobs and stabilize the aerospace industry
---
11.12.2020 Filed in: Aerospace written by: Eric Fanning,Robert Martinez Jr
The current crisis places hundreds-of-thousands of aviation manufacturing jobs at risk, creating a strain on our companies and workers today that may only get worse tomorrow. That's why we, as representatives of aerospace companies and union workers, are calling on government leaders to pass commonsense solutions to support the employees and industry that are essential to our country's success and future.
The pandemic's impact on air travel is reverberating across the aviation ecosystem. Domestic air travel in the United States has slowed to a crawl, with more than a 95 percent year-over-year decrease in revenue passenger miles at its lowest point in mid-April. While that number has improved, several major airlines have said they will still be forced to cut tens-of-thousands of jobs soon. And when airlines are grounded, aviation manufacturing and repairing is grounded. Aircraft orders dry up, spare parts are not needed, and operations and maintenance are deferred for planes sitting idle. Overall, global civil aircraft production will drop by nearly 50 percent in 2020. The impact on the specialized civil aviation workforce is expected to be equally severe, with 220,000 U.S. jobs at risk under current projections.
Commercial aviation companies and suppliers of all sizes are struggling. As end-use aviation manufacturers face decreasing passenger demand, the industry's shared supply chain, made up of primarily small- and medium-sized companies, is also experiencing substantial impacts placing workers — the lifeblood of our industry — at greatest risk.
In addition, due to the shared nature of our supply chain, losses in civil aviation will also impact the defense industry. Many of these highly skilled workers also support projects for our military. Losing these jobs in our supply chain undercuts our ability to provide our armed forces with the world-class capabilities they need, undermining America's national security.
To counter this crisis, airlines and the aerospace industry are working together to ensure the continued safety of — and rebuild public confidence in — air travel. That rebound is the foundation of any long-term solution. In the meantime, protecting the industry's specialized, highly skilled workers must be a top federal priority. While Congress provided short-term assistance through the CARES Act, lawmakers must now take swift targeted action to protect aviation manufacturing jobs or risk losing these employees to other less-impacted industries that might seek their talents.
Thankfully, bipartisan leaders from both chambers of Congress have taken an important step to help save these jobs. Sens. Jerry Moran (R-Kan.) and Mark Warner (D-Va.) and Reps. Rick Larsen (D-Wash.) and Ron Estes (R-Kan.) have introduced two bills that would help U.S. aviation manufacturers retain their workforce and bring laid-off workers back to work sooner. And over 20 members of Congress have already signed onto the legislation.
This would be a temporary, targeted, and transparent emergency program to help companies retain the employees most at risk of losing their jobs from COVID-19. To help save these most vulnerable workers, the legislation creates a cost sharing program in which the employer continues to pay 50 percent of compensation, with the government supplementing the remainder. At the same time, the program requires the employer to continue to pay the vast majority of the company's total payroll costs, including benefits, creating a true cost share for industry.
This plan comes with a number of advantages. Most importantly, at-risk employees would keep their jobs, helping families maintain their benefits in the midst of an unprecedented public health crisis. Companies could continue operations to meet customer needs and help drive a faster recovery. Federal and state governments would avoid unemployment compensation and other costs associated with layoffs and furloughs. It's something that's often rare in policy: a win-win solution.
Over the next few years, the COVID-19 crisis will create new unprecedented challenges. But aerospace's inspiring workers have a history of helping lead our nation through times of crisis, from the trials of world wars to the pressures of the Space Race. They're not only the reason a plane is greater than the sum of its parts, but a group dedicated to something greater than their individual selves: our country.
Still, they can't do it alone. We've already seen too many U.S. job losses — it's time for Congress to act. Passing these payroll bills will help save vital U.S. jobs and empower aerospace's extraordinary workforce to help strengthen American economic success and national security. It will stabilize this critical industry today and ensure we are set up to achieve an even better tomorrow.
Announcement from Integrity Engineering & Design Solutions
As businesses are scaling, finding the right talent to meet your needs requires frustrating onboarding logistics, countless hours of training, and increased overhead through employee compensation. Integrity-EDS, will soon be announcing the launch of our next-generation mobile and desktop platform, enabling leaders to hire on-demand talent for as long or as short as necessary. In turn, teams can achieve maximum efficiency without unnecessary downtime, skill development, or overhead.
Interested in learning more?
Click on "Find Out More" below for access to exclusive launch & platform information, feature updates, and beta testing opportunities,